Each organisation using Overton has a staff member listed as the Group Admin – this person can see who has created an account, see who else is an Admin, hibernate inactive accounts and find your organisation's unique invite link.
If you are the Group Admin, you will have an extra tab on the top bar called 'Admin'. Click through to 'Group Account'.

Manage users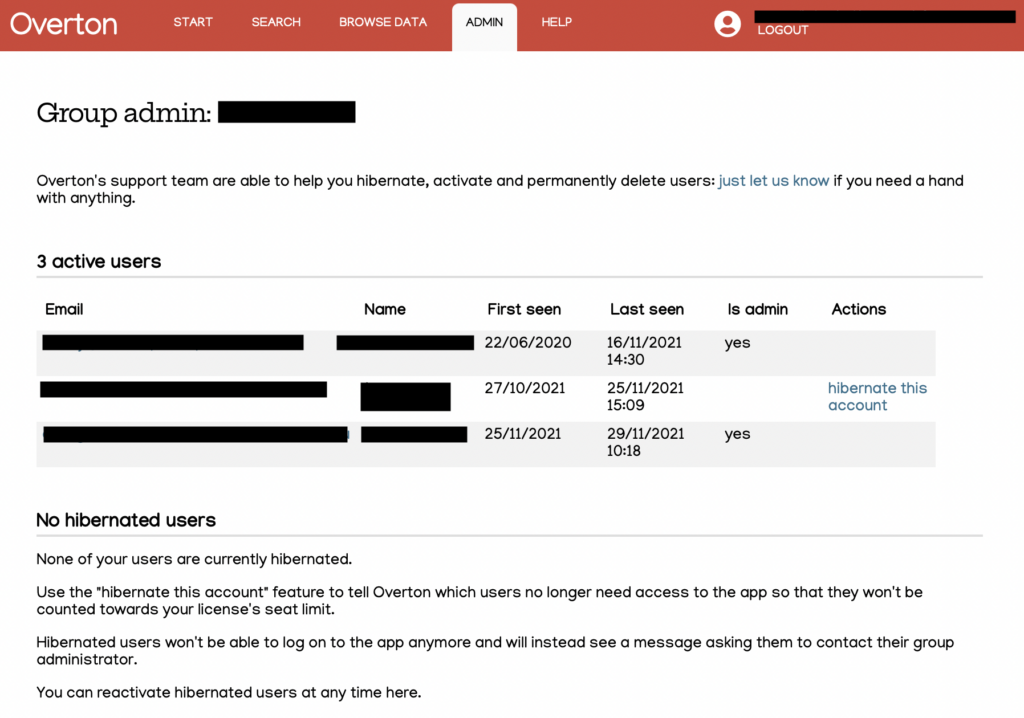 In the Group Admin page, you can see your active users and who else is a Group Admin. You can also Hibernate users, which means that the account will become inactive and that user will not be able to log in. This is useful when you have a fixed seat licence and need to keep within your user limit. You can also Hibernate users who have left the organisation.
If you want to make a change to the Group Admin or permanently delete a user, you can contact us at support@overton.io.
Group invite link
Below the user section, you'll find your organisation's unique invite link which you can share within your organisation so that colleagues and students can register for an account. If you have a site licence with IP authenticated access, users will be able to access Overton without signing in but we do recommend that people create an account so they can save their searches, tag documents and create alerts.

Setting example searches
You can set example searches for users within your organisation, which will appear on their home page when they log in. This can be helpful to show people how they might use the platform and the types of questions they can answer.
To create an example search, run the search as normal from the Start screen, then Save the search from the search results screen.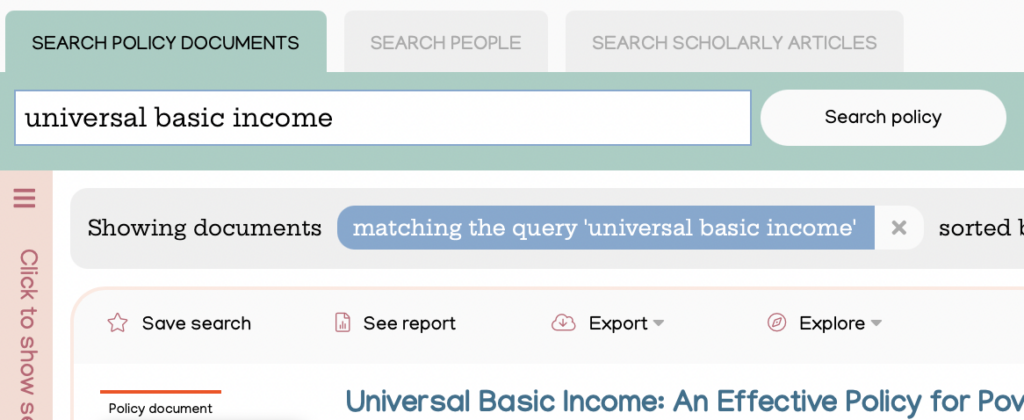 Then go to the Group Admin page and select 'Add this as an example search' under 'Your saved searches'.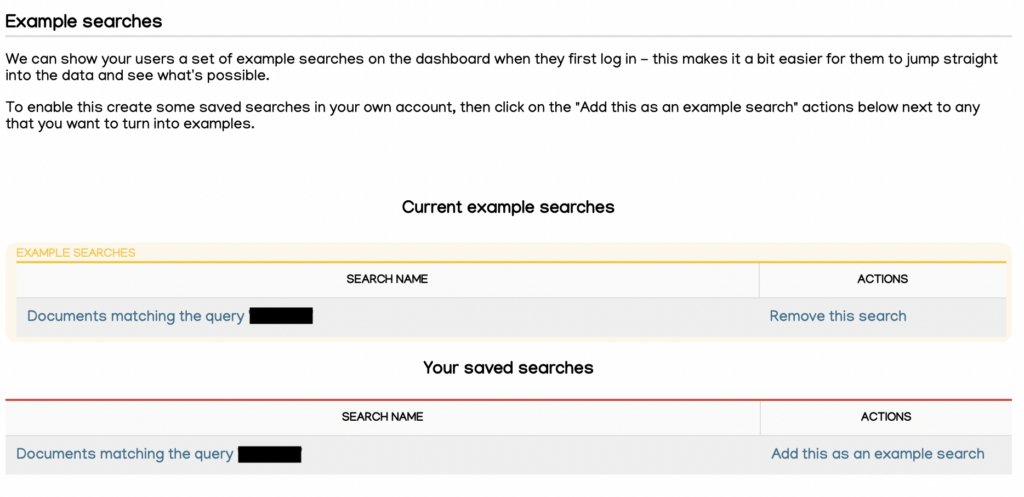 If a search is in both your Saved Searches and the Example Searches for your group, it will only display in the Saved Searches area of your Start page, though it will appear in the Examples Searches area of the Start page for other users in your group. To see the same Example Searches on your Start page as your group members see, delete the search from your Saved Searches once you have added it to the Example Searches.
Key Sources
It is possible to set up Key Sources at the organisational level but this will require a bit of help from Overton. Please contact support@overton.io if you would like to learn more.
IP access
If your organisation has a site licence which includes IP authenticated access, you can get in touch with us with your IP range and we can activate the access. This allows anyone using the campus or building computer systems access to Overton without having to create an account, simply by visiting app.overton.io. However we do recommend that people create an account so they can save their searches, tag documents and create alerts.
Contact us at support@overton.io for help setting up IP access.