A list of recent data updates, fixes and new product functionality
We update this page regularly with details of the important data updates, fixes and new features added to Overton. An easy way to keep up to date is to sign up for our newsletter, which will highlight any major changes to the app or data.
We deploy changes to Overton daily: there isn't a fixed release cycle and typically new features are released as soon as they are tested and pass QA. This page lists the work we've done in 2022: there's a different page for older work.
If you've got any questions about any of the items below please reach out to support or your account manager and they'll be happy to help.
Recent updates
Week of 25th April 2022
We added the citation context snippets (showing where an item is cited in policy) to the data snapshots. This data isn't new – it has been in the application itself for a while but we're now confident we can take the "beta" label off it.
Week of 11th April 2022
We speeded up how Overton deals with very large documents and documents that cite a very large number of scholarly papers – the IPCC climate change reports fall into this category. Previously if one was in your search results it would add seconds to the page load time – this is now fixed!
Week of 4th April 2022
You can now hover over a policy source name in the "View all of Overton's policy sources" page to get more information on that source, just as you can in the search results view.

Also on the policy sources view – we've added a "Remove all" button to the page when you're viewing your key sources, to speed up the process of deleting all default key sources and then re-adding the ones that are relevant to you.
Week of 14th March 2022
You can now share reports with people outside of your organization, or colleagues who don't have a seat license for Overton. This is a quick, easy way to share top level information about policy engagement with a broader audience. Just click on the "See report" button on the policy or articles view to load the report, then pick "Share this report" from the export menu. You'll be given a link that you can redistribute by email, in team chat or however else is convenient.
Anybody clicking on the link will be able to see the same report page, but if they click through to see more detail they'll be prompted to sign in or create an account.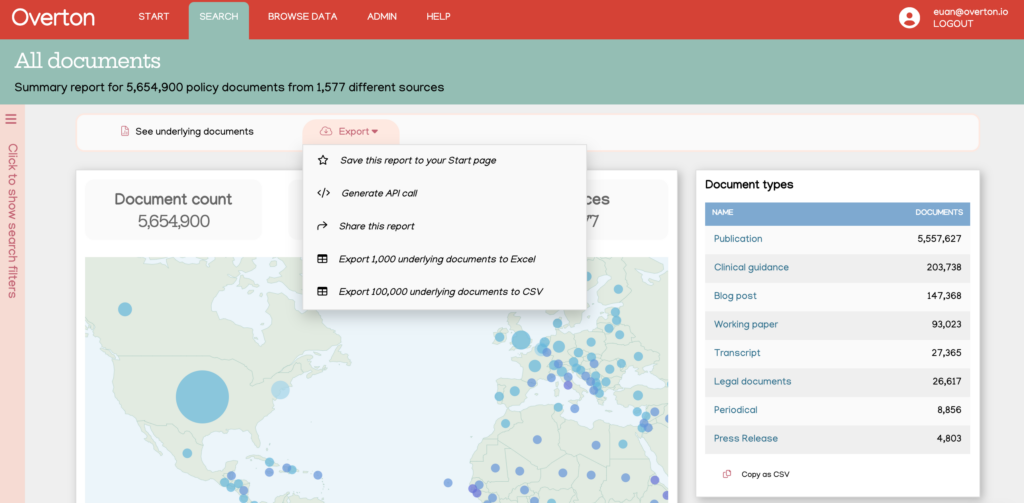 We made a handful of small improvements to the API output – mostly bug fixes but also added a next page field (containing the link to the next page of results for that query) and added previously missing fields like policy source subtype and organisational authors
Week of 7th March 2022
We did a bit more work on detecting and removing self citations. This could happen when a policy document itself has a DOI that it then mentions (on the front page, for example) – Overton would pick that up and treat it as a scholarly citation.
Fixed a bug that meant the "added before / after" and "published before / after" filters couldn't be used simultaneously. You can now do this.
Week of 7th February 2022
Added a new filter to the Articles tab that allows you to see outputs with authors in a given country (we derive this information from the author's affiliation and GRiD / RoR – so we can tell for example that somebody at the University of Toronto is in Canada, at the University of Edinburgh is in the UK etc.)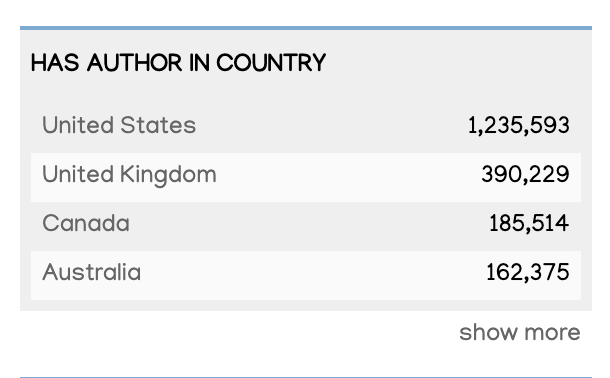 Week of 17th January 2022
We've made rights & permissions for some sources more explicit by adding a new text snippet in search results:

Clicking on this rights & permissions link brings you to the document details page where more information is displayed.
We improved the way we split blocks of text that contain multiple references (e.g. "See x; also y and z"), which increased the number of unique articles in the database by ~ 2%.
Week of 10th January 2022
We improved the way policy source exports to Excel work, by adding the title variants of each source, the date added and ensuring that we only export the currently selected set of sources
We made name searching in the People tab much faster, and fixed a bug seen when names contained a mix of initials and nobiliary particles
We made the DOI search box much more forgiving: at a pinch it will try to extract DOIs from journal article URLs and other strings…. but this is risky! Try to use clean DOIs (either just the part from 10.xxx onwards or the doi.org link) wherever possible
Week of 3rd January 2022
You can now search the articles tab by ORCID (which are unique identifiers for academic researchers) – just drop them into the identifiers search box like you would a DOI or a PubMed ID. To match outputs from more than one person just paste in more than one ORCID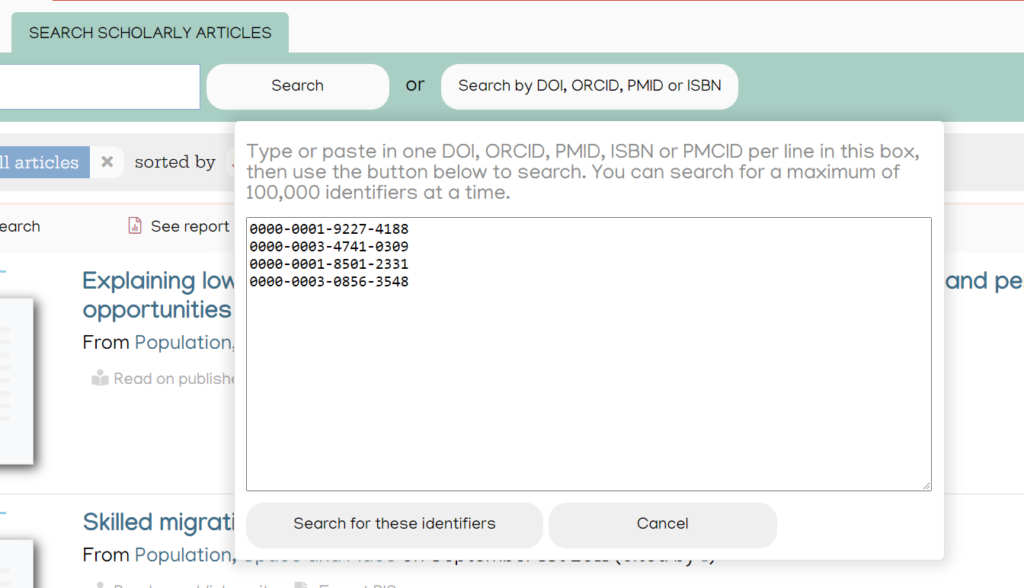 We now show the currently selected value in filters on the left hand side