Data notes appear at the bottom of search results on some screens. Overton uses them to make users aware of possible limitations and biases in the data.
We work hard to make the data in Overton as accurate and complete as possible, but limitations and possible biases still exist.
You can read more about how our data is collected as well as some notes on responsible metrics, but we wanted to make it easier for users who are unfamiliar with the "ins and outs" of scholarly metadata and citation tools, to understand when they might want to interpret results more cautiously.

How do data notes work?
Data notes are automatically generated based on the filters applied in your search and/or due to the set of results you're looking at.
Not all search results will have associated data notes. When notes are generated, they'll appear at the bottom of the search results page. Click on the "Data notes" bar to view the notes.
Each note is made up of three bullet points. The bullet points offer background on the issue, an explanation of why it might be a problem, and advice on how to address the issue. A link to a relevant help page or help pages where more details can be found may also be provided.
Priority of data notes
Some notes cover issues that are good background knowledge but don't necessarily have a material effect on any further analysis. Other notes highlight biases or potential limitations that are potentially more important for users to know.
To reflect this we assign a priority level of low, medium or high to each note. The note sidebar is colour coded to reflect the priority level. Red is assigned for high priority notes, yellow for medium priority and green for low priority.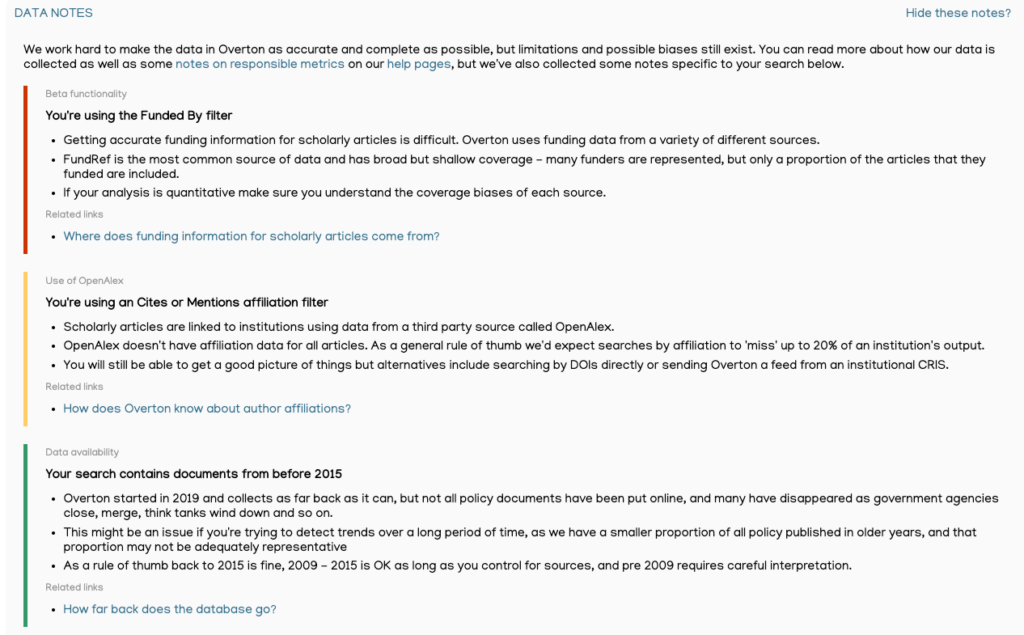 If your search results in at least one high priority data note we'll show the data notes bar at the top of the page too:

… and the data notes section at the bottom of your results will already be expanded without you having to click on the bar.
Hiding, adding or customising notes
We'll continue to add new data notes as we come across use cases that might be affected by spotty metadata or by the way we process or structure our data.
If we're missing notes that you think might be important, please do suggest them to your account manager or support@overton.io.
Equally, if you're an institutional account holder and you'd like to hide or customise data notes to suit your users (for example to link back to specific guidance on topics that you've prepared elsewhere, or to show the name or contact details of an local contact who can help researchers best use the data) please do let us know by reaching out to support@overton.io.